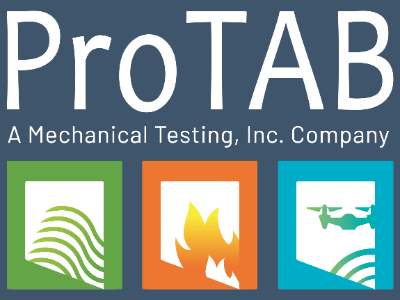 Mechanical Testing, Inc. and ProTAB join together!
We have some exciting news to share!
ProTAB is excited to announce our merger with Mechanical Testing, Inc. (MTI)!

MTI is a New York based, Woman Owned Company that began their journey as a Testing and Balancing firm back in 1967. They have since grown to offer additional services such as Building Commissioning, Cleanroom Testing & Certification, ASHRAE 110 Testing, Sound & Vibration Analysis, Blower Door Testing and other niche services. ProTAB will soon be offering these services as well!

For those of you currently working with us here at ProTAB, we aren't going anywhere! ProTAB will remain in the area as will our team.
We will, however have a larger support network behind us and we will be offering more services moving forward.

Brian Corcoran will still be providing support and would be happy to hear from you should you have any questions.

Please reach out to us at info@protabinc.com or contact anyone below.
ProTAB, Inc.
8375 Jumpers Hole Road, Suite 110
Millersville, Maryland 21108
(O) 410-816-4437
www.protab.us

• Ryan Veloso / ryan@protabinc.com
Vice President, Estimating & General Inquiries
• Paul Duval / paul@protabinc.com
Project Management & Scheduling
• Jennifer Anderson / jennifer@protab.us
Office Manager, Billing & General Questions
• Debra Pyles / accounting@protab.us
Collections & Office Support
• Brian Corcoran / brian@protab.us
Strategic Partner, Consulting & Technical Issues

Mechanical Testing, Inc. - HQ
4 Chelsea Place
Clifton Park, New York 12065
(O) 518-450-7292
www.mechtest.com




• Eileen Venn / eileenv@mechtest.com
President
• Brian Venn / brianv@mechtest.com
Vice President, General & Technical Questions &
Lunch and Learns
• Jamie Morwin / jamiem@mechtest.com
Billing, Lien Releases, Accounts Receivable & Accounts Payable