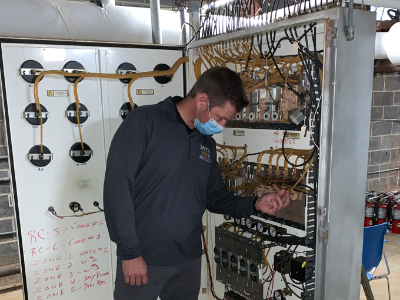 Should I hire a Commissioning agent or do it myself?
A commissioning agent, also known as a CxA, plays an essential role in a commercial project. They ensure all building systems function as per the owner's project requirements, design documents, and construction documents. Here's why you might want to hire a commissioning agent instead of trying to handle it yourself:
Expertise: A good commissioning agent brings a level of expertise and knowledge to the project that is hard to match. They understand the intricate details of how different systems should operate together and can identify issues that might be missed by those less experienced.

Time Savings: Commissioning is a time-consuming process. If you are trying to manage a project, taking on the additional task of commissioning can be overwhelming and may detract from your ability to effectively manage the project.

Independent Evaluation: Commissioning agents offer an unbiased, third-party assessment of the project. They can ensure all work is performed to standards and codes, and their objective standpoint can help prevent conflicts of interest.

Quality Assurance: CxAs are responsible for quality control of the entire project. They conduct extensive testing and provide a thorough review, ensuring that all systems are functioning correctly and efficiently before project handover.

Cost Savings: Although hiring a commissioning agent involves upfront costs, the long-term savings can be substantial. The agent can help optimize energy usage, extend equipment life, and avoid costly downtime due to equipment failure. They also help reduce operational costs by training staff in the correct use and maintenance of systems.

Documentation: A commissioning agent will provide comprehensive documentation for the project, outlining what has been installed and how it should be operated and maintained. This documentation is valuable for reference and for potential future troubleshooting.

Risk Mitigation: By thoroughly checking every system and its components, a commissioning agent helps mitigate risks associated with faults or failures. This ensures the safety and wellbeing of occupants and could save on potential future liability or repair costs.

Regulatory Compliance: In many jurisdictions, commissioning is a mandatory part of the construction process, particularly for certain types of buildings or systems. A commissioning agent will be familiar with these requirements and can ensure your project complies with them.

Better Building Performance: A well-commissioned building is typically a high-performing one. Proper commissioning leads to better energy efficiency, improved indoor air quality, and a healthier, more comfortable environment for occupants.
Remember, commissioning is not just a box to check off; it's a process that ensures your building's systems are designed, installed, tested, and capable of being operated and maintained according to the owner's operational needs. A good CxA is a critical player in achieving these goals.