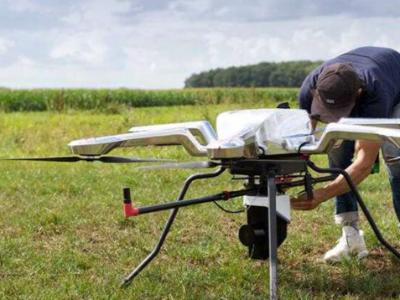 Nextcore Launches new American Distributor
Nextcore launches new American distributor MTI to distribute Nextcore UAV LiDAR in North American market Newcastle, Australia, April 16th, 2021: Nextcore, a leading developer of LiDAR equipment and systems for unmanned aerial vehicles (UAV), announces an expansion of its distributor network with the signing of a distribution agreement with Mechanical Testing, Inc. (MTI), a New York-based provider of drone services for the construction industry. Nextcore's UAV LiDAR products lead the way in providing high accuracy LiDAR from moving airframes and processing and delivering rich and usable data directly to surveyors, planners, constructors and maintainers.
Nextcore's RN100 series delivers unrivalled precision from higher altitudes, avoiding issues of high vegetation and high buildings without impacting LiDAR results. MTI specializes in the construction sector, providing services and sales for UAVs and 3D LiDAR scanning for use in building commissioning and maintenance. MTI has an established network of construction companies that will benefit from the power of Nextcore's integrated hardware and software solution. Combined with their technical expertise in unmanned systems, MTI is placed to capitalize on the benefits of LiDAR to the construction industry in North America. The addition of MTI to the Nextcore distribution network means there are now 16 distributors internationally. Brian Venn, Vice President, MTI, said "UAV LiDAR is revolutionizing the way we manage construction projects and how we assess building condition. The Nextcore RN series systems provide a simple, effective and low-cost solution that reduces risk to construction workers. We are delighted to become a part of Nextcore's distribution network." Ashley Cox, General Manager, Nextcore, said "As the construction industry re-emerges from COVID-19 slowdowns, firms are eager to put in place the technology to enable increasing volumes of work. Using UAV LiDAR can greatly improve the efficiency of building commissioning, and Nextcore's leading products are ideal for North American constructors."
About MTI Mechanical Testing, Inc.
(MTI) is a US federal (WOSB) and New York state (NYSWBE) certified woman owned, independent ACG, AABC, TABB and NEBB contractor. MTI brings over five decades of building commissioning knowledge and expertise to each project, large or small. MTI's main goal is to provide our clients with"Full Project Awareness" by providing reliable and repeatable TAB, commissioning and drone services for the construction industry, driven by data. mechtest.com
About Nextcore
Nextcore is a brand focused on developing and spreading the best, easiest and most cost effective way to acquire and process aerial LiDAR. Nextcore was founded on the back of years of experience in the technology and drone industry to solve the need of a cost effective, truly turn-key way of acquiring high quality LiDAR data. Nextcore is a business of Maestrano group, a company listed on the London Stock Exchange (LON:MNO).
nextcore.com