WindowSkin® by WexEnergy is an innovative low-cost window retrofit that reduces energy costs and improving occupant comfort. Mechanical Testing is an early adopter and proud to be one of WexEnergy's first Channel Partners.
One of the great "NEW" products Mechanical Testing, Inc. is bringing to our clients is WindowSkin®, a revolutionary window dressing. Just like its name, WindowSkin layers a transparent thermal skin on to your existing leaky or drafty window to effectively bring the R-Factor of a single-pane window up to double-pane performance. For a double-pane window, WindowSkin brings the effective insulation performance up to the performance characteristics of a triple-pane window!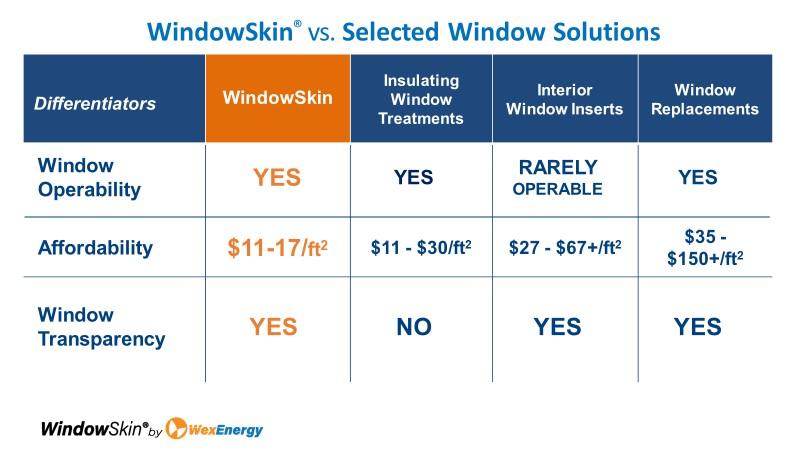 Brian Venn - Commissioning Authority, Test & Balance Engineer and Northeast Resident.
"Living in the Northeast, I appreciate the historical buildings and small New England towns. But as an energy expert, I strive to help Building Owners and Operators find new ways to save money. Building facade upgrades such as window replacements are often very pricey components to building upgrades. Nowadays budgets are strapped, making these improvements even more out of reach. WindowSkin is a product that allows buildings owners to snap a clear insulating layer onto their existing windows, saving money and deferring capital costs. That is the value proposition WindowSkin brings to the table for every building owner or operator, even outside the Northeast!"
Rachel Rosen, CEO of WexEnergy shows off the product
The innovation behind WindowSkin caught MTI's attention because our clients always ask our Commissioning Authorities how they can save money on energy costs. WindowSkin allows MTI to give our clients one more opportunity to add energy savings to their building without the giant cost of a major window replacement project.
Reach out to MTI today. Let's help you save money and be more comfortable this winter.
---
Ask MTI Commissioning Technicians to come out and show you the WindowSkin difference today by giving you a demonstration using a Thermal Camera!