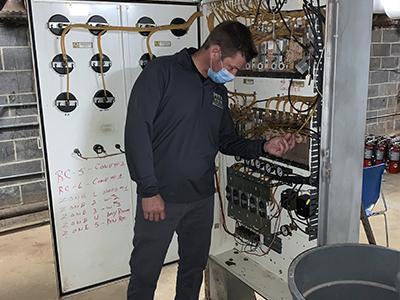 Why is Building Commissioning Important?
Building Commissioning is an important part of new construction and retro fitting buildings.
We make sure the building owner gets what they are paying for with a full project awareness approach. Our comprehensive paperless and paper reporting provides you with everything you need to keep your building running smoothly and efficiently.
We pride ourselves as a boots on the ground contractor and have been commissioning since 1967 before it was called commissioning. We troubleshoot and get to the root of any issues that may arise so they can be taken care of during this process. We send senior commissioning authorities to your projects not just data collectors.
Total Building Commissioning
Mechanical Testing, Inc. offers Commissioning and Retro commissioning. Through providing Test & Balance and other niche services for the last 53 years, we were already providing some commissioning services and were requested by our customers to offer full blown commissioning.
WHY US FOR COMMISSIONING?
We are members of AABC Commissioning Group (ACG) All members must be independent of general and installing contractors, manufacturers of equipment or system components, or other entities that could affect the ability of the member to render an independent commissioning report.


Retro Commissioning is a process that works to improve how equipment in the building and systems function together. There are many variables that come into play, the age of the building being one, and retro commissioning can often resolve problems that occurred during design or construction phase, or address problems that have surfaced throughout the building's life. Construction commissioning helps by having your building retro commissioned, this way you can improve the building's operations and maintenance procedures to enhance the overall performance making it more efficient.
DOWNLOAD PDF ›


Boiler Replacement/Repair Commissioning


Why boiler commission, so the owner gets a quality system that works efficiently and can be maintained easily.


Today's boilers can be a complex heating unit. Although the basic boiler may be boiler plate (no pun intended) the designs of the boiler fluctuates, making it important to understand what you are working on and the process. Our goal is to provide the building owner an efficient, and maintainable system possible. The process requires boots on the ground and spending time onsite, looking at the components as they are being installed and examining component manuals to determine how efficiently they can be operated, controlled, and interfaced.


MTI has 53 years of experience working with complex and basic boilers, through boiler commissioning we can help troubleshoot with thermal scans and offer total system balance and commission.
Blower Door Testing
Mechanical Testing, Inc. (MTI) Provides Blower Door Testing. There are many reasons for establishing the proper building tightness: Reducing energy consumption due to air leakage, avoiding moisture condensation problems, avoiding uncomfortable drafts caused by cold air leaking in from the outdoors, determining how much mechanical ventilation might be needed to provide acceptable indoor air quality. Plus this test can verify your homes tightness and save you $$$$ on your energy bills.
As of October, 3 2016 New York Residential Energy Code requires blower door testing in all residential buildings and allows compartmentalization in buildings with more than one apartment. Code requires a maximum air leakage in each dwelling unit to be 0.30 CFM50/SF (CFM tested at 50 Pascals per square foot of enclosure).
A blower door is a machine used to measure the air tightness of buildings. It can also be used to measure airflow between building zones, to test duct work air tightness and to help physically locate air leakage sites in the building envelope.
Call us we help residential customers get their CO's with a quick report turnaround, we also will trouble shoot if the test fails to help you fix the problem before we test again to help save you time and money. Email Shayne Spiezio, our certified blower door technician, for more details. For those looking for, 'the best blower door testing near me' look no further than MTI.
Cleanroom Commissioning
A cleanroom can be defined as an environment free from dust and other contaminants, used chiefly for the manufacture of electronic components. They are used in almost every industry where small particles can affect the manufacturing process.
Cleanrooms typically maintain this particle-free environment thru the use of HEPA filters and are classified by how clean the air is within their confines. With cleanroom commissioning, we make sure a cleanroom typically consists of a series of "tools" that are designed for the production and manufacture of specific products. Many of these tools have exhaust requirements in order to properly operate within the cleanroom.
MTI has worked on many of the cleanroom facilities in the upstate NY area. We offer extensive cleanroom experience ranging from balancing the buildings house Supply, Exhaust and water systems all the way to helping maintain the supply and exhaust requirements of the cleanroom itself.
MTI has assisted with numerous tool installs, ensuring the flow requirements are met for each respective tool, while having no impact on cleanroom production. We are also pleased to now offer Cleanroom Certification and Cleanroom Commissioning, allowing MTI to be a one-stop shop for all of your cleanroom balancing needs.
Functional Performance Testing
Mechanical Testing, Inc. (MTI) has been performing Functional Performance Testing for decades. The process normally takes place during the commissioning phase of the project, and ensures that all of the systems, subsystems and equipment are functioning properly in all modes and conditions. All system communications and control interfaces are also checked for proper operation. This can also be completed during a renovation or retrofitting application. In many cases Mechanical Testing can identify energy saving issue's that when addressed can return equipment to efficient levels.


Example: A HVAC system being retro-fitted after 15 years of service: Original duct sealer on all joints was cracked and leaking. Static pressure losses identified and recorded by our certified technicians brought this problem to the contractor before the duct was reinsulated. For the minimal cost of 3 men x 3 days, plus some buckets of duct sealer the customer now had a system that we had to slow down 10%. Over a calendar year the savings in brake fake watches uk horsepower at the air handling unit paid for itself quickly.
Mechanical Testing Inc. will work as the Commissioning Agent or with the Commissioning agent to ensure all of the building systems we are responsible for balancing are operating properly and as intended.
Sound & Vibration
Controlling noise in an environment is just as important as the conditioning of the air. Many components are factory tested under ideal conditions for sound & vibration that may be totally different from their actual installed environments. HVAC systems sometimes produce unnecessary noises and vibrations that can make their way to occupied spaces. A noisy, vibrating environment can distract occupants, damage building materials and also lead to early component failure within the system. Sound and vibration testing involves checking noise sources (i.e.: motors, fans, airflow and pumps) to make sure their output is within acceptable noise and vibration limits.
Mechanical Testing Inc. technicians can troubleshoot noise and vibration problems. We are able to pinpoint the problem source and recommend corrective action replica watches. Proper sound and vibration testing will provide comfort for occupants, lower costs and enhance building performance. We have certified Sound & Vibration technicians and state of the art software to assist you with your needs.
Research
Mechanical Testing, Inc.(MTI) has been doing research for their customers for over 53 years. MTI provides a hands on approach that will help you trouble shoot and diagnose any issues your building may be having.


MTI's team is ready for your next challenge and willing to work through issues with you to find a solution.
Call MTI for information, a presentation or install at 518-450-7292