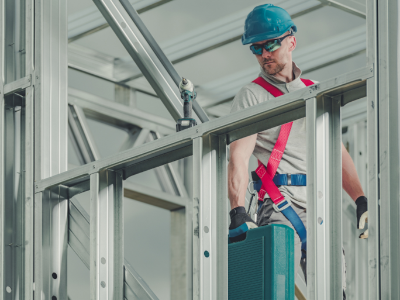 Are you using data to make better decisions for your commercial building?
Are You Using Data to Make Better Decisions for Your Commercial Building Project?
When you have the correct data for your construction project, it can save time, money and increase safety. These benefits are why MTI offers its customers building commissioning services with cloud-based reports for commercial building projects.
Building Commissioning, known as Commissioning (Cx), is a process that reviews and documents the installation and design by testing the building systems according to the specification the owner wants. This process also includes training the owner's property maintenance and facility management staff to understand how to operate the building. The key to achieving all of this is "Full Project Awareness" from all trades and vendors involved in the process.
MTI provides its boots-on-the-ground approach. We don't commission from behind a desk. We send our certified CxA to the project location several times during the project to truly ensure the owner gets what they are paying for and we communicate what is going on throughout the process. Progress progression can also be accesssed by the owner on the cloud based application.
How MTI Uses a Cloud-Based Application to Assist The Improvement of Construction Management
Our comprehensive paperless reporting commissioning platform, BlueRithm, offers a cloud base report for commercial building projects allowing collaboration for the owner to check progress and have a final hard copy and cloud base report at the end of the project. This provides complete transparency throughout the project.
BlueRithm technology is a management system that allows a cloud app to store data and maintain data security. BlueRithm uses software as a service to help the construction industry plan with cloud computing applications to help provide property and facility managers data about their building operations.
Mechanical Testing, Inc. uses BlueRithm to help construction management teams simplify, automate and build for the future. MTI includes cloud-based reports to work efficiently and allows flexibility to property and facility managers assurance their building is running correctly in real time as testing occurs.
The use of mobile devices by MTI personnel enhances project management software in the field, assuring construction management that technology is at the forefront of their construction project to make better decisions and have a timeline to keep all projects on schedule and safe, because the Construction Team has "Full Project Awareness" as they use data generated by their project smarter.
Building Commissioning Impacts the Future
The construction industry traditionally completed Building Commissioning within the construction firms or designers. Using a mobile device allows project management solutions to integrate all systems through cloud applications and know the systems function to the owner's specifications.
As technology advances, so does the property management software this will assist in the future of any green initiatives. These advances also allow MTI to promote customer relationship management as the certified CxA is available throughout the design and construction processes to answer any questions you may have.
Property management software provides the solution needed to meet the standards and requirements construction companies want, ensuring proper building functions.
Building Commissioning monitors the equipment and building systems' power consumption to drive down operation and maintenance costs.
Why Use MTI?
Property management software has been used by MTI in its building commissioning department and integrated once it proved to be effective. Cloud-based property management software has lifted the standards of the construction industry and increased building safety. This software shows the building owner, using document storage, that all equipment is performing in accordance with manufacturer specifications and are in sync with each other. This will allow owners to better understand the costs and positively impact building profitability.
MTI is well-known throughout New York and Massachusetts but can do building commissioning anywhere in North America and Canada. MTI uses thermal imaging and LiDAR on drones (UAVs) along with other services they provide. In Building Commissioning, the ability to use a drone helps us stay on the cutting edge of building data. It allows the company or CxA to quickily use a drone that can gauge something simple like project readiness or to quickly document project milestones.
MTI stresses efficiency and security in all building commissioning steps. But building commissioning isn't all of the enterprises MTI has to offer. MTI is an Authorized DJI Enterprise Dealer, Certified DJI Repair Center, Flight Training and Drone Service Company? Our team is professionally DJI certified, FAA compliant, and fully insured. These certifications allow MTI to provide safe roof inspections, mapping, solar inspections, and more.
MTI also offers state-of-the-art 3D LiDAR scanning. With the variety of offerings Mechanical Testing, Inc. can provide, why get your building commissioning services from anyone else? Through Commissioning software, a Certified CxA during all phases of your companies' construction, and the owner's availability to obtain the cloud-based report files, MTI covers all aspects of the process to provide Full Project Awareness.
Call Mechanical Testing, Inc. to discuss your next project. Call 518-450-7292 or email us at Mikem@mechtest.com