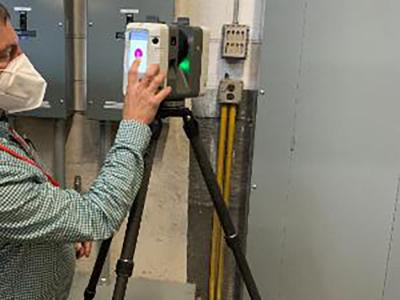 MTI adds RTC360 to it's LiDAR scanning tools
As technology changes our lives it also changes how we work in many ways. One of those ways is how we handle CAD (Computer Aided Drafting) and drawing coordination. In the past drawings had to be made by hand (virtually), aligned, coordinated and then executed on correctly in the field. There are many scenarios that allow for human error unfortunately or are very time intensive, that can be accomplished faster and more accurately by incorporating "real" conditions in the field rather than assumed on a drawing.
3D Scanning (LiDAR) has bridged that gap and is allowing the capture and sharing of "real" data from the field, accurate down to the 0.5mm. Leica technology has brought the real world into the virtual world at a level that has never been accomplished till now. MTI field technicians deploy the RTC360, capturing 2 million points per second as we collect data and register it in real time, in the field and in full color. Using the latest Photogrammetry technology measurements can be take directly off some of our deliverables. Giving designers and draftsmen confidence that the changes they are making will align properly with the equipment already existing.
Once data is collected MTI can create many different deliverables tailored for your project needs. Raw Point Clouds, LAS, E57, LGS, TruView Local, TruView Enterprise, TruView Cloud, JetStream Local, JetStream Enterprise, RCP. Take it to the next level by using our RVT creation services. MTI can deliver your next project by worksets, Architectural, Electrical, Mechanical, Lighting, whatever the individual need or if you desire the total package MTI can help with that too.
Understanding how important drawing accuracy and coordination is, Mechanical Testing, Inc. starting performing 3D Scanning and Rendering services based on our clients need. There are many 3D Scanning companies out there, but most of them don't understand what they are scanning or how the data is important. Mechanical Testing, Inc. technicians have worked in Commercial and Industrial environments collectively for over 100 years, based on our current workforce.
Understanding the Mechanical Systems that are being scanned and how they operate is important. Understanding the project helps MTI capture more important and impactful data. Many of our competitors just give you a data dump... That's not the MTI way. Our team will give you a deliverable that includes a summary of the scope of work performed, important areas to point out and most importantly be there for you to support the project even after our work has been completed.