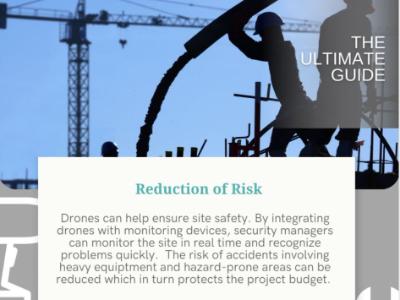 UAV Safety Plans for Construction Sites
UAV Safety Plans on a Construction Site
It doesn't matter where or what you're building, construction sites are some of the most dangerous places for workers. They're filled with various risks, hazards, obstacles, heavy machinery, heights, and potential for injuries. The danger never ends on a construction site.
Of course, that's what makes safety such a crucial component of every construction project. When you make safety a priority, you reduce the risk of things going wrong on a construction site. That means fewer injuries, less damage, and greater peace of mind for everyone involved.
In the modern world today, construction companies are always looking for new ways to improve on-site safety. That's why so many companies have started to integrate drones and drone technology, also known as unmanned aerial vehicles (UAVs) into their day-to-day routine.
How Unmanned Aerial Vehicles Improve On-Site Safety
Unmanned aerial vehicles, or drones for short, are all the rage in the modern world today. They're being utilized in virtually every industry you can think of and are some of the most versatile pieces of technology. It's no wonder they're useful to the construction industry.
Operating and flying an unmanned aerial vehicle (UAV) provides a wide range of benefits that you can't achieve on the ground -- at least not at the same speed and efficiency.
Below, we're going to break down some of the most prominent ways small unmanned aerial vehicle systems can help improve safety on a construction site and why every construction company should consider integrating this technology in their safety plans. Let's get started!
Improve Emergency Response
Emergencies are far too common on a construction site. Whether there's a structural issue that needs to be investigated immediately or one of the construction workers is injured, a drone or unmanned aircraft can detect, inspect, and investigate the emergency in a timely manner.
The quicker you respond to an emergency, the quicker you can mitigate the problem and find a solution. For example, a drone can deliver medical supplies to an injured worker much quicker than a human being, especially when they're far away from the incident and time's ticking.
Enhance Risk Management
In addition to emergencies, construction sites contain a wide range of risks that require constant monitoring and management. Normally, these risks are monitored and managed by human beings. Unfortunately, that puts the worker at risk of injuring or hurting themself -- or even worse.
With the technology we have today, those risks are much easier and safer to monitor or manage at the ground level with the help of unmanned aircraft systems. This is especially true for those hard-to-reach areas that are difficult to get to or hard to see clearly with in-person inspections.
Identify & Monitor Dangerous Hazards
We've talked about the risks and emergencies that occur on a construction site, now let's talk about the various hazards that are far too common. Not only can drones help you identify those hazards without having to get up close to them, but they help you monitor and manage them.
Again, these are jobs that are normally handled by humans, which only increases their risks on a day-to-day basis. Instead, drones allow you to identify and monitor hazards and potential hazards from afar. Doing this at a distance takes away the risk and improves efficiency.
Enhances the Safety of Building Inspections
From the start of the project to the finish line, building inspections are both required and necessary. While inspectors have largely done this from the ground up to this point, drones are quickly becoming the preferred method due to the efficiency, efficacy, and speed they present.
Drones allow inspectors to inspect everything from compromised rooftops to ensuring the proper use of equipment. They can inspect multiple floors extremely quickly and save a lot of time in the building process. Once violations are detected, they can send in the ground team.
Transporting Goods, Tools, & Materials
Construction sites are nothing without the goods, tools, and materials that are utilized on a daily basis. The problem is transporting these goods, tools, and materials can take forever and can put the construction workers at risk due to heavy lifting, dangerous conditions, and tall heights.
That's where drones come in handy. Due to their versatile nature, drones can help transport these goods, tools, and materials from the ground floor to the worker's location. It won't take as long to transport and you won't be compromising the safety and health of the worker.
As drones become more advanced, they're able to carry larger, heavier, and more goods than ever before -- helping construction workers get more done in less time.
Adds an Extra Layer of Security
With the number of on-site workers during the daytime, the security of the site isn't always an issue when the building process is in full swing. Unfortunately, these construction sites are at an increased risk of theft and trespassing once the workers leave and nighttime rolls around.
That's why most construction sites have on-site security to monitor the site when out of commission. Unfortunately, it's quite difficult to monitor an entire construction site by foot -- especially the larger sites. Luckily, drones can help you monitor larger areas more efficiently.
By detecting unusual movements and keeping a bird's eye view of the entire site, security guards can be alarmed of a trespasser well before they see them with their two eyes.
Do You Need Help Integrating UAV Safety Plans?
As helpful and useful as drones are to on-site safety, they do take quite a bit of training and skill to fly safely and efficiently. In order to get the most out of drone technology on a construction site, you're going to need quality and reliable pilots to ensure everything goes as planned.
At Mechanical Testing, Inc., we're an authorized DJI Enterprise dealer. We use drones to help inspect wind turbines, roofs, buildings with thermal imaging, solar panels, power lines, and more. If you need help integrating UAV safety plans on your construction site, contact us today!